After wading through 88 applications,
I finally decided on 10 DT girls
I am honored to introduce you to
TEAM DIRTY
:
Team Dirty will be scrapping the challenge on the 25th of the month
or more if they have time and love the challenge :)
Hi-ya, my name is Amy! I am a born and bred Missourian, but currently reside in the wonderful state of Washington! I am first and for most a SAHM to 3 beautiful children; Kayla, Kyrsten, and Koen, and the wifey to my High School sweetie, Travis! We are the typical Military family and absolutely love the lifestyle it has provided us. We take the good with the bad! Scrapbooking came into my life about 2 years ago and it was instant love! I have since discovered so many new and exciting things to play around with! I am not one to think I have a sense of style due to the fact that I am usually all over the place with my projects depending on what I am "playing" with that day! I just like to have fun with it and as with any Scrapbooker I just try to document my family's life in a way I think is beautiful! I am very excited to be here and I can't wait to get dirty with you all!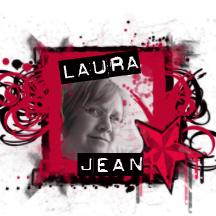 Hi, my name is Laurajean aka LJ. I've been married now for almost 19 years to a wonderful man, Bill and we have two beautiful children together, Danielle(13) and Kaleb (8). We are currently living in Jacksonville, NC, due to military orders, but hubby is wanting to retire in a few years, so we will see where that will take us in the future. I am so excited to be part of this Design Team and look forward to getting to know all of you!!!
I am an Independent Memory Works consultant, wife and mother of 3 very active children. I live in a very small town in Eastern Ohio and I LOVE TO SCRAP! I've been at it now for about 7 years and there's nothing on this planet that can stop me. I've scrapped everything from baby layouts to weddings and holidays to every day events and now, I get to scrap the dirt, the nitty gritty, the stuff people don't usually scrap about. Why? Because I can and because I want to support Pinky and what she stands for. Standing up against abuse and help those who can't help themselves stand against it and help them get through it. No I was never abused but, I have had many friends who were whether it be parental or marital. We have all been through some kind of hardships in our lives and for me, this will be a great experience and cheap therapy.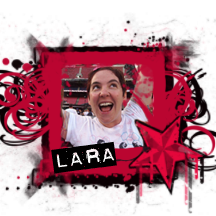 Hi! I'm Lara and i live in atlanta with my two doggies and most notably have recently started the next chapter of my life...and I'm a dirty girl if that also means walking around all the time with paint and ink stuck in my cuticles!
I have gone through the gamut of scrapbooking ... first starting with all store bought materials scrapping family and vacations ... then trepidatiously starting to realize i can scrapbook about myself for personal growth ... to discovering the beauty of using found objects and unconventional products on my pages and not caring so much about the "acid-free rule" to where i am currently ... abandoning ALL rules and art journalling, with abandon, my daily trials and tribulations and realizing how much better everything seemed after i got it out of my head and onto a sheet of paper with my hands caked in paint and gesso and yummy glue.
I am so excited for dirty scrapping and look forward to being a part of this awesome growing community of scrapbookers who encourage fearless, honest, and true scrapbooking of the moments that make us who we really are!

I'm Holly and I've been scrapbooking for about 10 years now. I taught scrapbooking classes in 2006. My layouts have been published in many popular scrapbooking magazines, including "Simple Scrapbooks", "

Creating Keepsakes

", and "

Scrapbooking

and Beyond." Though I've experimented with many techniques and forms of scrapbooking and preserving memories, I'm now most comfortable creating digital layouts.
My husband of 10 years takes most of our

family photos

, as he's a

professional photographer

. We have two adorable dogs; Shiley is our

Golden Retriever

and Chloe is our Pekalier (mix of Pekingese and

Cavalier King Charles Spaniel

). We've traveled the country and moved around quite a bit chasing dreams and starting careers.
It has made life colorful and interesting for me.

I'm a bit of a free spirit. I find inspiration in the great outdoors, my family, my faith, my life experiences (the good, the bad and the ugly), songs, and even quotes. My moments of inspiration quadruple in size when I'm happily caffeinated. Life's worth remembering and reliving for we only have one ... so I say, scrap it all!
As you probably noticed there will be 5 Layouts each challenge to give you
great inspiration for your dirty thoughts and pages!
Stay tuned for Dirty Challenge #2 on the 25th
And be sure to check out all the Dirtiest Girls and their blogs! :)