So much fun news today!
First of all the RANDOM winner of challenge #1
I made it random on purpose because EVERYONE who put their heart and soul
into challenge #1 deserves to win!

The winner is JANELLE!
http://allthingscreativecraftyandfun.blogspot.com/
here is her blog.

Thank you everyone who participated!

Now Lynn made a great tutorial!

Good day dirty girls!
I'm sharing a little tutorial on my layout named 'Broken'




The only journaling on this layout is placed across the title, 'as BROKEN as you want it to be'.

This serves as a reminder to me about how affected we are by others depends on how much you want others to affect you.

I've been through countless broken relationships, many of which are on the road of no return.
Sure I mourned about them day and night, even after years..
It's alright to be broken, really!
But it's not alright to remain broken because things will only become better when you reach the bottom of the pit, won't it?
So, if you're feeling broken right now, over the loss of a loved one, a painful break-up or a sudden desertion by close friends, let your hair loose and scream or cry.
Then, leave those baggages behind and move on to bigger, better things!


So heavy issues aside, let's move on to the mini tutorial that's real easy!

First of all, randomly tear the middle of the patterned paper, the shape is up to you.
I've a rough idea how my embellishments and photo are going to settle on them, so make sure it is visible to see the tear!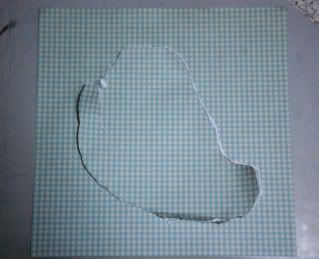 Next, tear a slightly larger paper from another patterned paper in the same fashion, and put it beneath the former.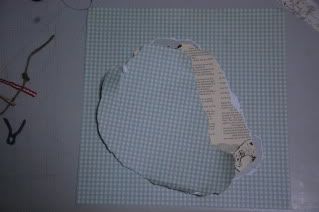 Ink the edges of both torn papers with distress ink. (I use old paper from Rangers)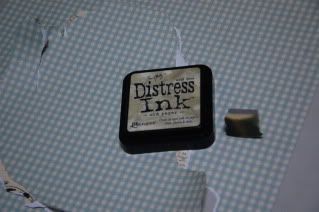 If you notice, I stitched the edges of the torn papers to the paper in brown and white.
I love the look of hand stitched threads running around my focal point!
I also sprayed glimmer mist to give it more color since there's a minimal use of patterned paper.

I've this lovely memory glass from Rangers to fill my embellishments in.
Assemble them as you like.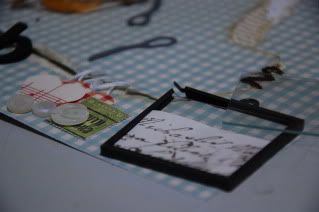 I stamped 'Be Strong' on the papers, what a strong reminder!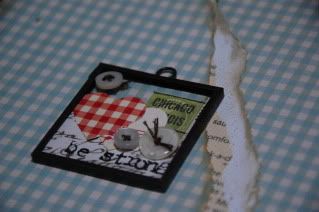 I attach ribbons haphazardly all over below the photo using Glossy accent.


The die-cut scissors are from Quickutz, notice it is hanging from the tiny rope which are cut up and tied again? This is also in line with my theme of being broken and yet managed to overcome it.

That's all for now.
A simple layout which conveys a great deal of meaning, at least for me.
You can view more close-ups of the layout at my blog.
Have a great day ahead and go get DIRTY!!


God bless,
Lynn

One more thing....IMAGINISCE is having a GIVEAWAY and it happens to feature
my work (Pinky) because I am on their DT LOL
So stop by and tell them PINKY SENT YA!
http://imaginiscescrapbooking.blogspot.com/

Have a down and dirty day!